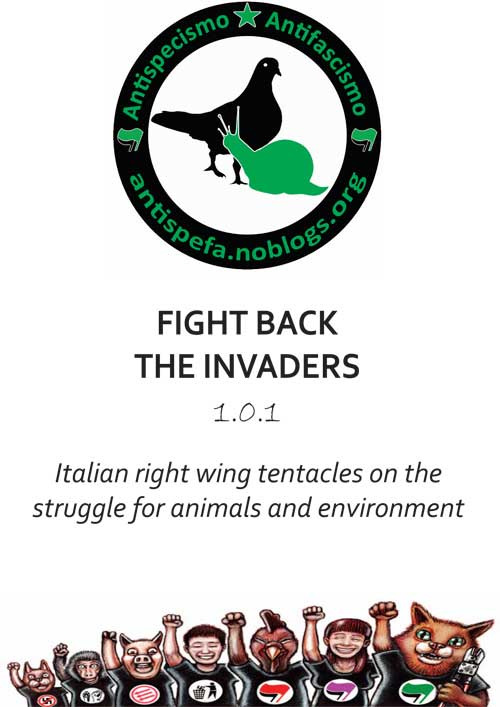 ANTISPEFA – Antispeciecists Antifascist Milan wants to be a counter-information archive about right wing infiltration in Italian ecologist and animal rights' field. Counter-information is one of the tools used to recognize and isolate, unmask and fight it.
On our blog, we started collecting basic information about institutional places, cultural centers, commercial activities and memorial places of right wing in Lombardia, displayed on a map, in order to focus on "monographic sheets".
This project, that takes inspiration from previous works, needs continuous updating, with a specific look at the entering of Nazi-fascist revival in animal rights and environmental issues, so that we can find them while proliferating all over the country, usually under the mask of associations, committees and informal groups.
In the ecology and animal rights' field, it's growing the number of groups and individuals who take direct inspiration from racist and fascist ideologies, or cover this connection, reproducing theories and practices of anti-capitalism, anti-imperialism and even anti-domination.
In this first work, we start examining some of these movements, groups and institutional personalities directly ascribable to neo-fascism, even the ones who describe themselves as apolitical while sharing their spaces, methods, language, and tolerating their presence by their own side.
They hide using symbols and phrases belonging to communism and anarchism, even animal rights and antispeciesism, waving the necessity to overcome the traditional division between left and right. From their point of view, fascism disappears nowadays, so anti-fascism does.
The same attention is needed for those identitarian tendencies referring to communitarianist and social ecology ideas, which talk about antispeciesism and try to connect primitivism with federal, supportive yet totalitarian experiences. Anarchist visions enslaved to the goal of protecting community-State from any infiltration that could "contaminate" its own purity.
IT'S TOTALLY INSANE TO GIVE SOME LATITUDE TO THIRD CENTURY FASCISTS AND RACISTS, SO IT IS TO THE ONES WHO ACCEPT'EM AND SHARE THEIR THEORIES, ROUTES AND STRUGGLES.
It's easy for them to take advantage of animal rights' happenings, especially the ones concerning pets. Food funding and pleas against abandonment are some good ways for them to have a major exposure on squares, markets and media, in order to spread their fascist, racist and supremacist ideas.
They hide their real faces under the mask of oppresses' saviors, building ties with institutions and people, so that throwing them out gets harder and harder.
The attention for every single step of this infiltration/assimilation is fundamental, in order to avoid situations like the one of 2015 summer in Turin: a demonstration in support of a kennel victim of vandalism suddenly turned into a racist torchlight procession against the neighboring Rom field, similar to the one in 2011, when the same torchlights were used to burn another field, with all the human and non-human lives in it.
This monitoring work is in memory of Clement Meric, antispeciesist and antifascist activist, stolen from his family, comrades and friends at the hands of fascists, on 2013 June the 5th, in Paris. Comitè pur Clement underlined that this hasn't been just an isolated attack, but part of a long series against who has no french origins, no straight tendencies or different political views from this scum. It's not by chance that his killer, Esteban Morillo, belongs to Troisieme Vois and is linked to other neo-nazi animal rights individuals and groups.
Antispefa's blog is followed by activists fighting for 360 degrees liberation for all sentient beings: freedom from exploitation, slavery, domination, competition and discrimination (species, gender,religion and geographical localization).
We invite everyone interested in and whoever has information about, to take part in this project.
You can send us an email at antispefa@autistici.org
WITH BLOODSHOT EYES: WE DON'T FORGET! WE DON'T FORGIVE!
For Clement, Dax, Abba, Renato, Carlos, Pavlovs, everyone fallen or imprisoned for her/his struggles.
July, 2015 – Antispefa
version 1.0.1, January 2016